Preamble
Dear international audience,
the pandemic is unfortunately not over yet and queer people are at an elevated risk. That is why we request that you wear a mask during film screenings and get tested before you attend.
Our films will be screened in the M.A.U. Club, which is at the city harbour, close to tram stop Kabutzenhof. You can find details on the workshops and films in the descriptions below, where you will also find details on the spoken languages and subtitles.
Our festival does not have tickets or ticket sales, we are small, community-driven and donation-based. All you need to do is show up to the films that interest you, we will ask you for a small cash donation at the entrance. This year, we will also be collecting donations for the local charity Rostock hilft.
QueerFilmFest Rostock is a volunteer project run by a small group of film enthusiasts. If you would like to be part of our team, just speak to us during the festival or write us an email at queerfilmfest@gmail.com.
We are looking forward to a roaring, glittering film festival, exciting guests, conversations and encounters, and most of all to you!
---
Overview
Workshops & Events
Kreuz und que(e)r durch Rostock • Saturday, 8 Oct 2022 • 11 am
Detransition • Saturday, 8 Oct 2022 • 1 pm to 3 pm
Champagne reception with snacks and chats • Saturday, 8 Oct 2022 • around midnight
Internalised Queermisia and Empowerment Strategies • Sunday, 9 Oct 2022 • 11 am to 3 pm
Film screenings Friday, 7 Oct 2022
19:30 Uhr • All Our Fears (Wszystkie Nasze Strachy)
22:00 Uhr • The Dark Side of the Reel – short film block
Film screenings Saturday, 8 Oct 2022
17:30 • Into My Name (Nel Mio Nome)
19:30 • So Damn Easy Going (Så Jävla Easy Going)
22:00 • My Emptiness and I (Mi Vacío y Yo)
Film screenings Sunday, 9 Oct 2022
15:30 • Gabi: Between Ages 8 and 13 (Gabi, mellan åren 8 till 13)
20:00 • The Light Side of the Screen – short film block
---
Workshops & Events
Kreuz und que(e)r durch Rostock
Guided tour • Saturday, 8 Oct 2022 • 11 am • Meeting point: Seven Sisters Fountain at Kröpeliner Tor shopping center
The lesbian social group Rostocker Uferfrauen invites you to join a guided walking tour through the city of Rostock. Tracing the steps of the gay liberation movement and local artists, we will walk the city for about one and a half hours, looking at current and former gay hotspots, cottages and of course the history of the city of Rostock.
Please register ahead of the tour via e-mail kontakt@rostocker-uferfrauen.de or via facebook (RUF) or Instagram, a small cash donation is also appreciated. The guided tour will be conducted in German.
---
Detransition
Presentation with q&a session afterwards • Saturday, 8 Oct 2022 • 1 pm to 3 pm • M.A.U. Club
Eli Kappo, born in 1992, is a de_trans activist who chronicles his multi-directional journey to his own gender on his blog "she's in detransition".
For a few years now, the media have depicted detransition as a 'return' after a wrong decision on transitioning. This framing is meant to serve as an argument against the simplified, self-determined access to a legal transition. Eli uses his own life story to demonstrate that this framing does not match the actual lived experiences of many detransitioners. At the same time, there is a political message to Eli's story: gender self-determination must be of central importance in the struggle for trans* rights, which at its core is not only compatible with feminist ideals but indispensable to feminism.
---
Champagne reception with snacks and chats
Champagne reception • Saturday, 8 Oct 2022 • around midnight • M.A.U. Club
The last film ended, but you don't want to go home yet? We cordially invite you to something chilled and bubbly: sparkling wine, mineral water or cola, and we will throw some vegan snacks into the mix as well. Let's chill out together and get chatting, we are looking forward to meeting you.
---
Internalised Queermisia and Empowerment Strategies
Workshop • Sunday, 9 Oct 2022 • 11 am to 3 pm • M.A.U. Club
In this workshop on internalised queermisia we will explore internalized discrimination and the way it lives in our bodies.
We will look at what (discriminating) lessons we learned on queer desire and non-heteronormative gender identities in the course of our lives and investigate which of those lessons impact our self-image and the way we conduct our sexual encounters and relationships and the way we present ourselves to the world. We will discuss what similarities and differences there are between internalised homomisia, bimisia and transmisia and how to counter it if we notice it within ourselves. And we will ask how we can empower one another in our sexual and gender identities. What might an affirmative attitude towards ourselves look like and how would it be expressed?
The workshop will be held in German, lasts 4 hours and is aimed at people who identify as lgbtiqpa+.
Jana Haskamp (she/her) works as a sex educator and workshop facilitator on the topics of queerness, sexuality and discrimination. She also advises queer, trans and non-binary individuals and couples on sexuality and relationships in Berlin. Please see www.janahaskamp.de for more info.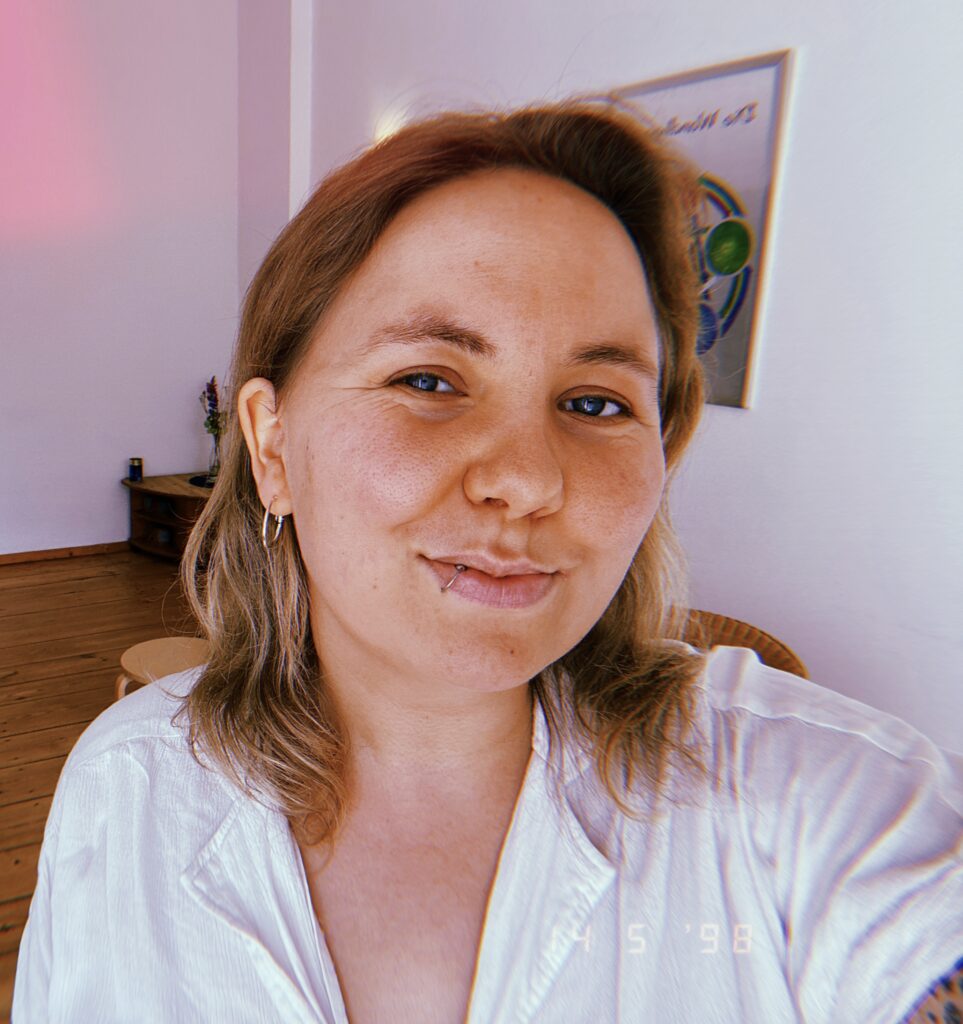 ---
Film screenings Friday
All Our Fears (Wszystkie Nasze Strachy)
⚡ suicide
Feature film • Łukasz Ronduda & Łukasz Gutt • Polish with German and English subs • 94 min • 2021 • POL
Daniel is a devout Catholic, an artist and openly gay. However, he has to keep his relationship with Olek a secret because Olek is not out yet. In his small parish, Daniel has founded a prayer group for queer youth that includes 16-year-old Jagoda. Jagoda takes her own life after being bullied at her school for being gay. Daniel tries to process Jagoda's death and create the ultimate work of art, and this raises questions: What is the relationship between life and art? How far can art and activism go? Do Catholicism and queerness have to be mutually exclusive? The film is based on the life of contemporary Polish artist Daniel Rycharski.
---
The Dark Side of the Reel
Content warning for almost all films, 18+
This block of short films is about suicide, sexualised abuse of power, alienation from family, anonymous, impersonal sex, refugee experience, homophobia, transphobia and break-ups.
Please read the film descriptions carefully and decide for yourself which films you would like to see.
Chrysalis
⚡ suicide, explicit depiction
Narrative short • Alaa Safi • Arabis with English subs • 4 mins • 2020 • ITA
During the lockdown in early 2020, there was a veritable witch hunt for lgbtqia+ people in Morocco. Dozens of people were outed against their will, lost their homes or jobs and one young man even committed suicide in his parents' home during the lockdown. Director Alaa Safi wants his film to speak for those people who cannot raise their own voices and hopes to increase public awareness of the situation in Morocco with his minimalist film.
---
I Can Only Do So Much
⚡ The film deals with topics like suicide, death, trauma, PTSD and sexual violence but there are no graphical scenes of any kind.
experimental • Lillion Lost • English with English subs • 18 mins • 2021 • SWE
The main topic of the film is suicidality in context of close relationships. But its focus is not on the suicidality itself. Instead, it gives insights into the thoughts and feelings of a close person / partner who never had any suicidal intentions themselves.
It therefore provides a very different new perspective on how one can possibly think about suicide and a close relationship to someone who is facing this problem.
Mental health issues are universal and more common than the taboo would have us believe. But since they are often rooted in trauma and discrimination, the relationships of marginalized, queer and trans folks are on average more often affected by them.
The film is split into three intimate one-on-one talks of two trans people who are in a close relationship. The talks take place in three different locations and are framed by an imaginary opening and closing scene.
---
Starfuckers
⚡ sexualised power abuse
narrative short • Antonio Marziale • English with English subs • 14 mins • 2022 • USA
Through three unnamed characters, the film takes an unflinching look at the power dynamics in Hollywood. The power relations, which seem clear at the beginning, are reversed in the course of the film; it feels as if the whole industry is tied to a chair and forced to witness the events. The film has the oppressive atmosphere of a thriller and develops into a revenge movie of the queer kind.
---
Eggshells (Черупки)
narrative short • Slava Doytcheva • Bulgarian with English subs • 15 mins • 2020 • BUL
Her girlfriend wants to spend Easter with her family, so Nevena dyes two eggs and also goes to visit her father, who she's not been in touch with for a long time. Nevena's father refuses a return visit to the city because she lives with a woman…
---
Eden
narrative short • Sven Spur • without dialogue • 17 mins • 2020 • BEL
A restless young man roams the gay hotspots of an anonymous city in search of security, closeness, and himself. Against the backdrop of gay saunas, sex clubs and city scenery, an intense love story is told without using words.
---
Schwankt, wie das Licht (Sways, like the Light)
documentary • Nina Laçin • Farsi, Arabic and English with German subs • 8 mins • 2022 • GER
How fleeing from one's home country shapes and changes a person is not only related to their experiences in their country of origin and not only to their own motivation and strength.
Refugee lgbtqia+ people experience a lot of violence and exclusion in Germany and in supposedly safe countries of origin, and settling in in Germany is also made more difficult by many obstacles.
In this film, four BIPoC queer/trans*/non-binary people give a very personal account of their experiences, feelings and dreams.
---
Sansara – We Will Become Better (Мы станем лучше)
music video• Andzej Gavriss • Russian with English subs • 6 min • 2021 • RUS
This music video by Russian indie band Sansara, shot by Latvian director Andzej Gavriss, is dedicated to the Russian lgbtqia+ community. It was released a year after marriage was defined as a union between a man and a woman in Russia and the number of anti-queer attacks rose again. Even though there is more than a break-up and physical distance standing between the two lovers in the video, it does promise hope for a better future.
---
Saturday, 8 Oct 2022
Into My Name (Nel Mio Nome)
documentary • Nicolò Bassetti• Italian with English subs• 93 min • 2022 • ITA
The four friends Nic, Leo, Andrea and Raff all live in Bologna and have found a safe home in the city and in each other. All four have something in common: they were all socialised as girls, but later decided to determine their own gender. Although their stories differ, they all face similar problems. The documentary shows the difficulties the protagonists face in a binary-gendered world, but it also shows how much strength and power trans* people can give each other.
---
So Damn Easy Going (Så Jävla Easy Going)
feature film • Christoffer Sandler • Swedish with German subs • 90 min • 2022 • SWE
Johanna has a problem: her brain is constantly flooded with sensory input that she finds difficult to process, she has ADHD. Because her father is depressed and cannot support her, Johanna has no money for her medication. Johanna finds quite creative ways to obtain money, even though the noise in her head is getting louder and louder. And then the self-confident and charming Audrey shows up at her school…
---
My Emptiness and I (Mi Vacío y Yo)
⚡ 18+, explicit sexual content, botched genital surgery mentioned
Feature film • Adrián Silvestre • Spanish and French with English and German subs• 98 min • 2022 • ESP
After moving from France to Spain, Raphi dreams of a romantic relationship and a family. But her reality is very different: she works in a call centre, has bad dates with men and her therapist diagnoses her with gender dysphoria. The film shows Raphi in everyday life, in intimate conversations with friends and colleagues and again and again on dates. In the end, it turns out that it is not the advice of others but her own experiences that help her find her place in the world.
The female lead of the film is played by Raphaëlle Pérez, whose life the film is based on and who was also closely involved in writing the script. Director Adrián Silvestre felt it was important to portray trans* people from their own perspective, to put them at the centre of the creative process and to show them as subjects rather than objects of representation.
---
Sunday, 9 Oct 2022
Gabi: Between Ages 8 and 13 (Gabi, mellan åren 8 till 13)
documentary • Engeli Broberg • English and Swedish with English subs • 76 min • 2021 • SWE
Gabi just wants to be Gabi and doesn't understand why everyone else makes such a fuss about the differences between girls and boys. When Gabi is 10 years old, the family moves from Stockholm to a small working-class town. Gabi finds it harder to fit in there, and with her new-born little brother there is less room at home too. Then Gabi enters puberty, which leads to new questions and fears. The film accompanies Gabi from ages 8-13 and captures the rarely documented pre-teen years of a non-binary person.
---
Finlandia
Feature film • Horacio Alcalá • Spanish with English subs • 97 min • 2021
The young designer Marta is sent from Spain to Mexico to observe the local textile production and to be 'inspired' by the colourful patterns. Arriving in the southern Mexican state of Oaxaca, she meets Zapotec muxes, who are neither men nor women, and is accepted into their community. A tender love story develops. At the same time the film in the style of magical realism reflects on cultural differences, cultural appropriation, and exploitation. When Oaxaca is hit by a devastating earthquake it becomes clear how stable the newly forged bonds really are.
---
The Light Side of the Screen
Funny, self-determined, empowering – in this block of short films we have put together films which show many different orientations and genders, which make us laugh or think and which show that there is a good, free life beyond societal expectations.
Ich bin trans* (I am trans*)
documentary • Marcel-Jana Urban • German with English subs • 2 min • 2021 • DEU
The two-minute documentary "I am trans*" follows trans* male drama student Gianluca through his daily routines that help him feel more comfortable in his own body and lets Gianluca explain what these steps mean to him.
---
No Romo
documentary form / video essay • Elliot Blue • English and French with English subs • 15 min • 2021 • DEU
Elliot Blue is a filmmaker and lighting designer whose work often questions social power dynamics. In "No Romo", Elliot Blue puts the concept of romantic love to the test and shows the many shapes that love can take.
---
In the Image of God
documentary • Bianca Rondolino • English with English subs • 15 min • 2020 • ITA
Rabbi Levi was born in 1957 in Long Island, New York. Just like his grandmother and great-grandmother, he was found to be intersex at birth and he, too, was raised as a girl. In the film, he talks about his transition and his journey to his faith.
---
Make Me A King
narrative short • Sofia Olins • English with English subs • 16 min • 2021 • GB
Ari performs as a Jewish drag king, much to the confusion of their family. Ari reveres Pepi Littman, who did just that 100 years ago, and thus utilises history to ensure more acceptance in the present.
---
This is Katharine (Hvem er Katharina)
Animation • Ida H. Eldøen • English with German subs • 15 min • 2022 • NOR
From an early age, Katharine suspects that she might be a lesbian. To find her sexual identity, she watches films and TV series, and from these she creates an image of how she should be – far from the shy and anxious young woman she actually is. We learn her story, her thoughts and feelings from the omniscient narrator off-screen and accompany Katharine on her journey to herself. The film is based on the director's personal experiences and focuses particularly on the importance of representation in the media.
---
Weil ich Leo bin (Because I am Leo)
narrative short • Tajo Hurrle • German with English subs • 18 min • 2022 • DEU
Vast meadows, romping in the forest and building huts out of wood. Leo (12) is spending the autumn holidays with big sister Noémie and cousin Emil on Grandma Marlies's farm. But when Leo is surprised by what Grandma Marlies calls great news, Leo plunges into an identity crisis. "Because I am Leo" delves into the emotional world of a child who is on the way to discovering their gender identity. A film about expectations that overwhelm. About thoughts that constrain and about the courage to find oneself.
---
L'Empote (Extra spicy)
Narrative short • Carlos Abascal Peiró • without dialogue • 8 min • 2022 • FR/DEU
Joachim doesn't like to go out of the house, and he is also suspicious of the men who work out in a gym on the other side of the street. He prefers to devote himself to his gherkins, but this time he can't manage to open the jar.
---
We thank…
…the many queer filmmakers for their great films.
…the M.A.U. Club for their great support.
…our sponsors, thanks to whom our film festival can continue to take place in the future.
…our supporters for their uncomplicated help.
…and of course you, the best audience in the world.